Your Library Card
A library card is needed in order to check out material. Anyone three years old or older may be registered for a card. Children under the age of 18 must have a parent/guardian accompany them to register. Proof of current address is required. 
Loan Periods
All materials are checked out for 21 days except for DVDs, Video Games, and magazines, these items circulate for a period of 7 days. Materials from SEO Consortium libraries are checked out according to each library's rules. Be sure to consult your check out slip, your My Account link through this website, or the SEO Libraries app for exact due dates.
All items may be renewed (in person or via telephone or online at adalibrary.org or with the SEO Libraries app) except for materials that are on request by another patron. 
SEO Consortium Loans
For books/items that the Ada Public Library does not have in its collection, the Library participates in the Serving Every Ohioan (SEO) Consortium of libraries that extends across Ohio. The consortium consists of 98 libraries at 268 service points and allows our patrons to access over 8.1 million items free of charge. You may place holds for these items yourself, stop by the library and ask our staff to show you how to place holds, or ask and we will gladly place the hold for you. 
Library Materials and Services
Print and Information Needs
Materials
Books, Large Print Books, and Magazines
Books on CD and Playaways (entire book on portable/personal device)
DVDs, BluRays, CDs, Videogames
LinkedIn Learning – Online Courses
LinkedIn Learning, formerly known as Lynda.com, has more than 18,000 courses, ranging from computer programming to project management including instructions on various computer software, programming languages, and business topics. Examples of learning paths include how to become a web developer, manager, bookkeeper, project manager, small business owner, digital marketer, or digital illustrator. 

The Reading Room
Browse or search by Lexile or Accelerated Reading levels all materials available at Ada and SEO consortium libraries.

Online Research Databases
Ohio Web Library – databases by area/type
Ohio Web Library – databases alphabetical order
Local History
Local History of Ada, Hardin County, and the State of Ohio
Ohio Business Search
Tax Forms
You may print tax forms using library computers or request a form to be printed from the irs.gov or tax.ohio.gov websites at the circulation desk. Cost is $.25 per page.
Microfilm
Microfilm copies of Ada Herald (1896-present) and Ada Record (1873-1927) newspapers
Microfilm copies Hardin County Ohio Deed records, 1881-1886, Will Records, 1901-1912, Birth Index 1867-1908, Death Index 1868-1908
Free Notary Service
Call ahead to check availability.
Ohio Benefits
Apply for healthcare, child care, food and cash benefits.
Services
Patron/non-patron computers w/ high speed internet access
(use library card or guest pass available at circulation desk)
Free WIFI
Reference Services in person, on the phone, or by e-mail
Exam Proctoring
Please call the library at 419 634-5246 to speak with the library director about this service
or email the director at adalibrarydirector@gmail.com.
InterLibrary Loans
For any items not available at Ada Library nor any SEO consortium libraries, you may request an InterLibrary Loan and our staff member will search libraries outside of our system for that item.)
SEO Libraries App (available from App store or Google play)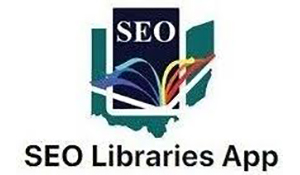 Libby - The library app for eBooks and audiobooks 

Golden Buckeye Card Information
Voter Registration
Programming
Summer Reading as well as year round programming for all ages
Check our monthly Activity Calendars
Homebound Delivery Service
Books delivered to patrons in vicinity of Ada who are not able to travel to the library.
Printing, Copying, Faxing
Printing
B&W:  25¢ per page (same cost for single sided or double sided)
Color:  50¢ per page (same cost for single sided or double sided)
Copier machine
Full service
Fax service 419-634-9747
local & toll-free:  50¢ per page
long distance:  50¢ per page
international:  $2.50 per page
received:  25¢ per page
cover sheet:  25¢
Internet
Computers are available on a first-come, first-serve basis, and patrons are limited to one hour per day (unless doing research, job applications, etc.).
Patrons must bring their library card to log in to the computers.
Non-patrons (those without library cards) may obtain a guest pass at the circulation desk to log in to the computers.
Patrons 12 years old or younger must be accompanied by a parent when doing Internet searches. 
Computers will be used for educational, informational, and social media purposes only. Use of the internet in any activity in violation of local, state, and/or federal law is prohibited. 
Community Meeting Room
The library has a spacious new community room that accommodates up to 56 persons and also a reading room that accommodates up to 12 persons.
Please click here for meeting room rules and please click here for application form to be completed each time a room is needed. Applications are approved by the library director.
Please call with questions or for more information.