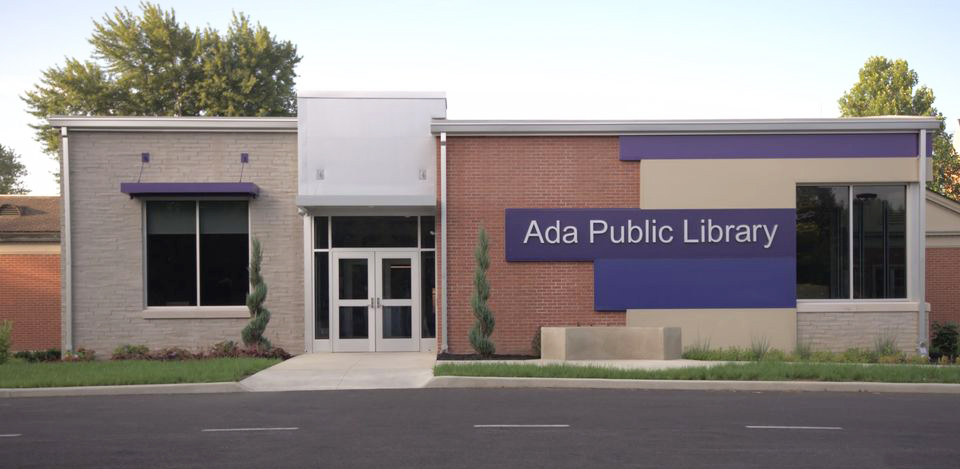 Hours
Mon - Thu: 10 - 8 pm
Fri: 10 - 5 pm
Sat: 10 - 2 pm
Ada Library Mission Statement
The mission of the Ada Library is to stimulate scholarship and advance knowledge by providing access to all varieties of materials; to work alongside our neighbors and within our greater community to support our mutual growth and prosperity.
Our History
The Ada Public Library had its beginning with a few books placed in the restroom of the old town hall for the country women to read while waiting there.
In the fall of 1916 the Ada Clubs formed their federation.  One of the first official acts was the appointment of a library board, leading to the formation of the Ada Public Library at the restroom on June 1, 1917.
Mrs. Cora Anspach was the first librarian, serving without pay until September 1919.
The library has moved several times. In 1917 it was on the second floor of the Brewer block.  In March of 1919 it moved to Highland Avenue. 
The town was canvassed by board members to obtain books and money.  Local talent concerts, club donations, and finally subscriptions by individuals were used to finance the young library.
In January 1936, the local school board offered to take over the responsibility for the library.  At the annual meeting of the Federation of Women's Clubs, the property was legally turned over to the school board on June 18, 1936.
In 1943 the Friends of the Ada Public Library Association was formed.
On March 30, 1953, the new $74,000 structure on North Main Street was opened; the current location was furnished by gifts from the community. Then in 1965 Mrs. Avanell Stambaugh generously provided funds to build an addition.
In 1991, a total renovation project was unveiled to the Ada community.
In 2017, expansion and renovations took place giving the library a new parking lot, a large programming and community gathering space, much needed updates to the children and teen areas, upgraded technology, increased seating, and new carpet and paint.
The library remained open and functioned at nearly 100% throughout the process. A grand reopening was celebrated on April 28, 2018.