Coming Soon!
FEET for FINES!
This holiday season, pay off your library fines*and help others at the same time!
1 pair of NEW kid's shoes** = $5 worth of fines
1 pair NEW gloves = $5 worth of fines
1 NEW hat or scarf = $5 worth of fines
1 pair of NEW kid's socks = $1 worth of fines

*Not eligible for lost book fees
**No flip flops, please
All of the collected items will be donated to Helping Hands, a Hardin County charity that will give the shoes and socks to local children in need.
Sponsored by ONU Women, in collaboration with The Friends of the Ada Public Library
2nd Annual Holiday Silent Auction!
What: The Silent Auction is a series of baskets or items on display at the Library, all items can be bid on, with the highest bid winning the items. All money raised from bids goes toward Library programming in 2014!
Why: The baskets, to be auctioned off at the Library, will serve as wonderful holiday gifts for family and friends! The Library offers FREE programs year round, so we thought this would be a fun way that the local community--both item donors, as well as patron bidders--can help support the Library in a unique way!
Where: The Ada Public Library
When: Baskets will be available to be viewed and bid on from Monday, December 2nd - Saturday, December 14th.

Any other questions, please stop by or call the Ada Library (419-634-5246).
THANK YOU FOR YOUR SUPPORT!
TWEEN (4th-6th Grades) BOOK GOUP:
Friday, January 10th, 4p.m.
Crispin: The Cross of Lead, Avi
Begins with a funeral, that of a village outcast whose past is shrouded in mystery and whose adolescent son is known only as "Asta's son." Mired in grief for his mother, the boy learns his given name, Crispin, from the village priest, although his presumably dead father's identity remains obscure. The words etched on his mother's treasured lead cross may provide some clue, but the priest is murdered before he can tell the illiterate lad what they say. Worse, Crispin is fingered for the murder by the manor steward, who declares him a "wolf's head" wanted dead or alive, preferably dead. Crispin flees, and falls in with a traveling juggler. "I have no name," Crispin tells Bear, whose rough manners and appearance mask a tender heart. "No home, no kin, no place in this world." How the boy learns his true identity...and finds his place in the world makes for a rattling fine yarn." --Publisher Weekly
FUTURE BOOKS:
February: A Wrinkle in Time (Graphic Novel), Hope Larson
March: From the Mixed-Up Files of Mrs. Basil E. Frankweiler, E. L. Konigsburg
April: The Lightning Thief, Rick Riordan
May: Catherine, Called Birdy, Karen Cushman
June: Lincoln: A photobiography, Russell Freedman
TEEN (7th-12th Grades) BOOK GOUP:
Divergent, Veronica Roth
Thursday, December 19th, 4p.m.
"In Beatrice Prior's dystopian Chicago world, society is divided into five factions, each dedicated to the cultivation of a particular virtue—Candor (the honest), Abnegation (the selfless), Dauntless (the brave), Amity (the peaceful), and Erudite (the intelligent). On an appointed day of every year, all sixteen-year-olds must select the faction to which they will devote the rest of their lives. For Beatrice, the decision is between staying with her family and being who she really is—she can't have both. So she makes a choice that surprises everyone, including herself...
But Tris also has a secret, one she's kept hidden from everyone because she's been warned it can mean death. And as she discovers unrest and growing conflict that threaten to unravel her seemingly perfect society, she also learns that her secret might help her save those she loves . . . or it might destroy her." --Amazon.com
FUTURE BOOKS:
January: The Lord of the Rings: The Fellowship of the Ring, J.R.R. Tolkein
February: 5th Wave, Rick Yancey
March: Around the World in Eighty Days, Jules Verne
April: The Dark Game: True Spy Stories, Paul B. Janeczko
May: Boxers & Saints (2 volume Graphic Novel), Gene Luen Yang, Lark Pien
June: Darius & Twig, Walter Dean Myers
Book Discussion Group
Join us on Tuesday, January 7th at 7p.m. to discuss the book: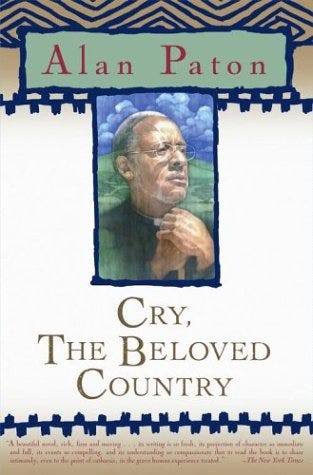 Cry, The Beloved Country by Alan Paton
"Cry, the Beloved Country" is a beautifully told and profoundly compassionate story of the Zulu pastor Stephen Kumalo and his son Absalom, set in the troubled and changing South Africa of the 1940s. The book is written with such keen empathy and understanding that to read it is to share fully in the gravity of the characters' situations. It both touches your heart deeply and inspires a renewed faith in the dignity of mankind. "Cry, the Beloved Country" is a classic tale, passionately African, timeless and universal, and beyond all, selfless."
--Amazon.com